August 2020 Island Batik Challenge Quilt
Passages by Connie Kauffman
25" x 25"
The challenge for the Island Batik Ambassadors for August was called Try a Tool. The new sponsor for this challenge was
Deb Tucker's Studio 180
. Studio 180 specializes in rulers that simplify and make accurate blocks.
Here I'm already thinking of how to use them. This collection was a challenge to me because it had color combinations I wasn't totally comfortable using together. I'm not sure I've ever made a quilt with purple, red and orange together!
So- the next challenge was what design to use in my quilt. The pattern had to have flying geese units so I could use the ruler, and we had to have at least 16 units in the project. I looked thru some pictures of quilts that I have in a folder that I'd like to make someday and found one from the Jan/Feb Quilter's Newsletter 2000. It was a quilt called Plaid Stars by Brenda Henning that was featured in an article about the Delectable Stars block. So, taking the idea from a section of the quilt I was able to make a variation by resizing, creating some new blocks and changing things up to fit the fabrics.
Now to actually making the quilt and using the Wing Clipper and Quilter's Magic Wand Rulers.
I have to admit here that I am NOT a person that buys a lot of different rulers. I've found in the past that some rulers are only good for one thing and you have to read the instructions carefully each time you use them. But- we were graciously given these rulers to try, so I was game to give it a go.
I like flying geese blocks and have made them often using paper piecing. I like paper piecing because it is so precise and you can make any size block you want. There is little waste and I have found many other rulers leave a lot of waste when making their blocks.
Let me tell you I was REALLY impressed with the Wing Clipper Ruler! It comes with a simple instruction sheet that is very easy to understand. AND it comes with a free video demonstration that is fantastic. What I especially like is that the instructions tell how you can make blocks from 1/2" to 10"! Wow! I like to make small quilts and sometimes rulers aren't designed to make smaller blocks. The pattern I designed had 1" x 2" flying geese units so this ruler worked great.
Without going into a lot of detail, there are just a few steps in making the flying geese units. You start with a large square and two small squares laid out like the upper left block. You line up the Quilter's Magic Wand down the center and mark on both sides for sewing lines. Then you cut thru the center and press the blocks out.. Then you add other small squares (the instructions tell you what size squares you need) at the point, draw the lines with the Quilter's Magic Wand, sew on the lines and cut again. Press and you have the flying geese unit.
Five squares made 4 flying geese units.
The final step is trimming the unit to the correct size. This is what your ruler is for- and it is very simple to understand. See how little trimming is needed? You trim both sides.
Okay- I'm very impressed. I made 48 units- and see how little waste there was!
Another new thing I tried with this quilt was Hobbs Fusible Cotton Batting. Hobbs batting is one of the Island Batik Ambassador sponsors and this time we were sent one of their Fusible battings. I didn't even know they made fusible battings!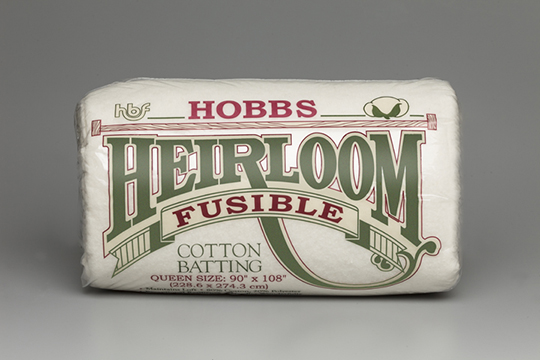 I had used fusible battings in the past, but the brand I was using either quit making it or I couldn't get it anymore, so I was excited to try Hobbs. Basting is probably my least favorite part of quilting, so this is a plus!
I was VERY impressed with the fusible batting! It is still an 80/20 Cotton/Poly blend. It fused very easily and it fused well to the back for me. You can turn it over- reposition and repress the back if you get any puckers, but I didn't have an issues. This is a small quilt- only 25" x 25", so I was also able to just press it on my ironing board and not even get down on the floor.
I also wondered about how the loft would be since the batting had been pressed. I found it had good loft which really surprised me as many regular battings I'm finding today are very thin with little loft.
I'm SOLD on this batting. Thank you Hobbs!
Well, I'd call this project a success! Several great new things tried. Thanks to sponsors Island Batik, Deb Tucker's Studio 180 Design, Hobbs Batting, Aurifil thread and Schmetz Needles for the products used in this project.